Gorski named one of LAUSD's Teachers of the Year, gets funding to start new keyboarding class
There seems to be no end to the awards Daniel Pearl Magnet High School (DPMHS) teachers receive.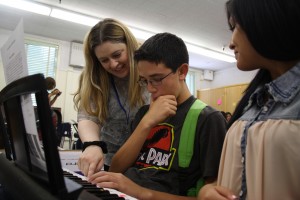 Music teacher Jacqueline Remillard Gorski, who has been teaching for 11 years, was named one of 21 recipients of Los Angeles Unified School District's (LAUSD) Teacher of the Year award in early June.Those being honored have shown innovative and powerful teaching methods that positively impact their students. Gorski teaches both the choir and guitar classes as well as a new keyboarding class.
"I feel so happy and grateful to be recognized by LAUSD for my contributions as a teacher in the district. I love music education, and I love working with the great kids at DPMHS," Gorski said.
Gorski is pivotal in the organization of Daniel Pearl World Music Days every October, where she conducts the school choir of about 100 students. She also assisted students in preparing for their participation in a commercial that appeared on the June 11 episode of NBC's show "The Voice."
"I am proud to lead such an exceptional music program that reaps rewards for everyone in our school community as well as garnering positive local and national attention for itself," Gorski said.
The most recent additon to Gorski's music program in a new keyboarding class.
After four months of almost non-stop fundraising, Daniel Pearl Magnet High School (DPMHS) music teacher Jackie Gorski raised enough money to buy 32 keyboards.
"The students came up with the idea. They kept asking me if I could teach them to play songs on the piano, and I finally decided to have a keyboard class," Gorski said.
To pay for all of the keyboards, Gorski needed to raise over $6,000. She used Donors Choose, a nonprofit organization that provides direct donations for projects in public schools, to help get donations for the fundraiser. Gorski also used Facebook and the DPMHS website to promote her project. But she didn't raise the $6000 alone.
Black Philanthropy Month (BPM), an organization that donates to various projects every August, matched many of the donations on Donors Choose. In addition to that, Gorski got a good portion of the money during the school's first Parent Teacher Student Association (PTSA) meeting.
There was a box at the meeting asking for donations to the project. In addition to that, one family at the meeting matched all donations in the box. When those donations were added to the Donors Choose project with the BPM matching, the amount from the meeting was quadrupled, leaving only a thousand or so dollars to go, which were promptly donated in the next few days.
"Ms. Gorski has done a great job organizing the class," senior Dan Blas said. "I just want to get better at the piano and I think this class will help me achieve that."
Gorski hopes her first keyboard class will be a success.
"I'm thrilled, I can't wait until they get here," Gorski said.