Video game review: 'Destiny' lives up to the hype, mostly
Destiny is a game above all others. With outstanding graphics and extraordinary gameplay, it's sure to make more than its net worth.
Destiny is a massive multiplayer online first person shooter set 700 years in the future, in a post-apocalyptic world where aliens have taken over most of Earth. One last city remains, called the Last City.
A mysterious huge being known as the Traveler floats over the Last City, labeled as the protector of the remaining survivors on Earth. Soldiers, known as Guardians, are the Earth's last hope of survival.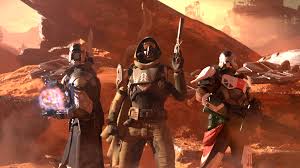 Destiny has a complicated review history, with some news outlets calling it a disappointment and others saying it lived up to the hype that has been building since 2009. Although in video games, the storyline is not the only important factor.
While it has fluid graphics and exemplary mechanics, its soundtrack is something else, with an ending song by Paul McCartney to listen to while the screen fades to black, and credits start to roll.
There are three different classes to choose from, a concept that isn't very ideal. More classes would have made the game better and given each player feel more unique. At the same time, each class is creatively different, with different abilities and gameplay techniques.
There are also many different types of guns, including submachine guns, shotguns, and pistols. Although, you cannot pick up the weapons of fallen enemies like in Halo and Call of Duty, the selection of guns that are given to you make up for the letdown.
Overall, Destiny is a massive and fantastic game, that any gamer seeking action and adventure would enjoy.
The game is rated T for Teen by the ESRB organization and published by Activision.