Apple unveils new iPhone, first smartwatch
People of this generation are looking for electronics that will make their lives simpler with just a tap on a screen. Thankfully, Apple has done just that by revealing some new products that has their customers head-over-heels.
The three big takeaways from the Keynote Presentation on Sept. 11: the new iPhone 6 and iPhone 6 Plus, iOS8 and Apple's entry to the wearable tech field, the iWatch.
The new iPhone 6 does much more than the previous iPhones. It comes with an update to the Fingerprint feature, as Fingerprint is now available when accessing your iTunes, iBooks, and App Store. It's larger (with a 4.7 inch screen), thinner and lighter than ever before. The advanced iSight camera is now able to take professional High Definition pictures and videos.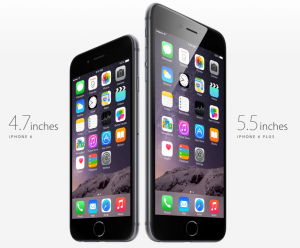 Other new camera features include sensors with Focus Pixels, slow-motion and time-lapse photography , improved face detection, exposure control and many more.  The iPhone 6 Plus is just like the 6 but bigger (a 5.5 inch screen). The iPhone 6 starts at $199 and the iPhone 6 Plus starts at $299. They both come in silver, gold and space gray.
A new iOS update will be able this fall. According to the Keynote, iOS8 does more so you don't have to. New apps include: Design, Quicktype, Family Sharing, iCloud Drive, Health, Continuity, and Spotlight. The new Health app communicates with your doctor and trainer, calculates your heart rate, calories burned and cholesterol during a workout. You're able to share your location when you're texting, it predicts what you're going to say next, and you can reply to texts without stopping what you're doing. You can name your group chats, mute them and leave them. You can now lock certain apps and open them using your fingerprint.
The new Quicktype feature is one that has the Apple fans and users most excited, as it finally brings to iPhones what is essentially the Android Swipe feature that lets you text without picking up your finger. Overall, the new iOS update has iPhone users joyous till fall.
The last new Apple product that was revealed is the iWatch. This never before seen product is like a mini convenient iPhone on your wrist. With the Digital Crown, you can zoom in, scroll, and select without covering the screen, a problem that many smartwatch users have been trying to overcome.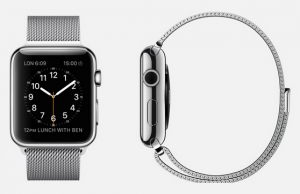 The watch can sense when you lift your arm and it turns on when you do. It's perfect for working out because it calculates the amount of steps you take or you can download an app for cardio. And in one of the most innovative features of the iWatch, it comes with haptic response or in layman's terms, it taps you on the wrist whenever you get a notification. The watch, using its ability to monitor your heart rate, can record your heartbeat as a series of taps and you can then send those taps to another iWatch user such as your significant other.
The iPhone 6 and 6 Plus are available for pre-order and will go on sale on Sept. 19 and the iWatch will be available in 2015.