App of the Month: Flappy Bird
Dong Nguyen, the creator of the popular game Flappy Bird disappointed players when he took the game out of app stores.
Two simple words and one simple game. Repeatedly tap on your electronic device while trying to pass through barrack type columns. Sounds simple enough right? Wrong.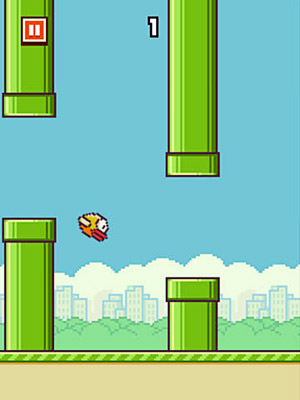 Nguyen's reasoning behind his actions is the game is too addictive. The new game from independent developer from Hanoi, Vietnam will have you shouting vicious remarks in frustration at yoursmartphone. Even though the concept of the game sounds quite effortless, many people spend hours trying to pass the lowest of levels.
"It happened to become an addictive product. I think it has become a problem. To solve that problem, it's best to take down Flappy Bird. It's gone forever," Nguyen said in an article in Forbes.
Flappy Bird has taken the virtual world one flap at a time with its intricate skills of timing each tap at the right time. A big part of the game, as is in most games, is luck.
"I deleted the app within a week, it was too draining and time consuming," sophomore Idalia Vallejo said.
Right when you think you understand how to maneuver the flapping bird, that's when the frustration of the game really sets in. With every tap of your screen, your confidence builds and just as you think you've got the hang of it, you flop. This results in having to start all over again from square one. That's usually the cue for the not-so- kind words to be exchanged between you and your phone.
"It gets so frustrating but it's so hard to put my phone down," senior Jonathan Hinojosa said.
About the Writer
Gihan Rachid, New Media Editor
Gihan Rachid is the New Media Editor for The Pearl Post. She is also a member of the school's yearbook Prestige Yearbook. This is her second year on...