The Pearl Post places second twice at L.A Press Club Awards
By Elitza Batchiyska and Patrick Avognon Jr
The sound of high heels clicking on marble floors, cameras shutting their lenses and the murmur of old colleagues echoed throughout the walls of the historic Millennium Biltmore Hotel in Downtown Los Angeles. This year's Los Angeles Press Club Awards, held on June 23, honored local journalists for their incredible work and unwavering dedication to their craft.
For the second year in a row, The Pearl Post was named a finalist in the category of Best High School Newspaper. For the past year, The Pearl Post has held the title and continued to strive for greatness month after month. This year, the paper was unable to hit their mark and the title went to Beverly Hills High School for their newspaper Highlights, leaving The Pearl Post to take home the second place award.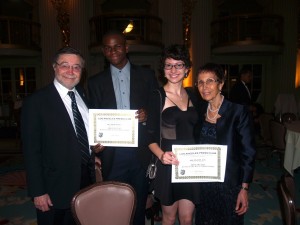 In its first year, The Pearl Post online edition was nominated for Best News Website, competing against schools like California State University, Northridge and the University of Southern California. Once more, The Pearl Post placed second while USC took home the first place award.
There to represent The Pearl Post at the ceremony were alumni and former Editor-in-Chief Elitza Batchiyska and Opinion Editor Patrick Avognon Jr. Once the results for their categories were announced, the editors relaxed and were able to enjoy a fun-filled evening full of laughs, great food and even better company.
Comedians, actors, and Los Angeles Press Club board members acted as presenters and relief for guests. Comedian Alozo Bodden, who won season three of "Last Comic Standing," was certainly a crowd favorite. Other notable presenters included City Councilwoman Jan Perry and actor Charles Shaughnessy who is best known for his role as Mr. Sheffield on the hit series "The Nanny."
In April, The Pearl Post online newspaper was a Pacemaker finalist from the National Scholastic Press Association (NSPA) and both the news website and the print newspaper placed 10th in Best Of Show at the Journalism Education Association/NSPA high school spring convention.