Patriots off to a successful pre-season
By Jake Dobbs
Staff Writer: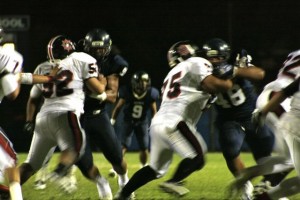 Tension filled the air. A touchdown for Birmingham Community Charter High School. A touchdown for the opposing team.
Those were the results of the first playoff game last season barely winning with a score of 21-18 against Arleta High School. The second playoff game threw the Patriots out of competition, 45-15 Dorsey High School.
Now it's a new season, another chance at that the city title, and new goals to be made.
Patrick Ewing, No. 9, is a senior at Daniel Pearl Magnet High School (DPMHS) who started his fourth year of football and is now on the varsity team. He plays outside linebacker and strong safe.
"I like it because you get to hit and make big plays," Ewing said.
Some of Ewing's goals include becoming a better player overall and that ever important city title.
According to Ewing, by training harder and polishing his rough edges, he will focus on his catching skills so he can be more effective on the field. He says the team has to fight for the honor of the city title.
Last season, Ewing and his teammates did well on the grid iron, winning most of the home games.
However, the city title didn't make it into the hands of the patriots.
"My goal is to win a city title, win the league and to improve myself," Ewing said.
To qualify for the city title, team needs to win its league. Then the team can get into the playoffs, which is where all the qualifying teams get knocked down to two teams.
Whoever wins that final match wins the title.
Other players on the team share similar goals, for example, Jerry Reyes, senior at DPMHS, plays corner for the varsity team.
"Goal would be to win city," Reyes said.
Some players have specific goals, like winning the city title. Others have broader, more general goals. Tyler Cure, No. 14, is an example of a broader goal.
"(My goal is to) win as many games as possible, and help my team win," Cure said.
Cure is a senior, and plays wide receiver for the varsity team. He just wants to help his team win as much as possible.
That city title is on everyone's mind and it's going to be a fight to get hold of. But the players realized that and are ready for the challenge.
"Last year we won the league, now we want to win city," Ewing said.