Lack of AP classes at DPMHS disappoints students
When he was in the ninth grade, Max Grinfeld was thinking ahead to college applications and noticed that there weren't enough Advanced Placement (AP) classes to increase his grade point average (GPA) that would make him competitive enough to get into prestigious colleges such as Massachusetts Institute of Technology, CalTech or Stanford.
"I almost left last year because of the lack of variety in AP classes," said Grinfeld, a  sophomore who is currently taking AP Calculus AB and AP World History. "However I stayed for my friends and (from) my parents' encouragement."
Daniel Pearl Magnet High School's (DPMHS) limited offerings in AP courses have some students and parents disappointed.
"Some parents have asked why we don't have more AP classes," principal Deb Smith said. "The parents are concerned to the choices we make because they want their students to have a higher status and more rigorous transcript for college applications.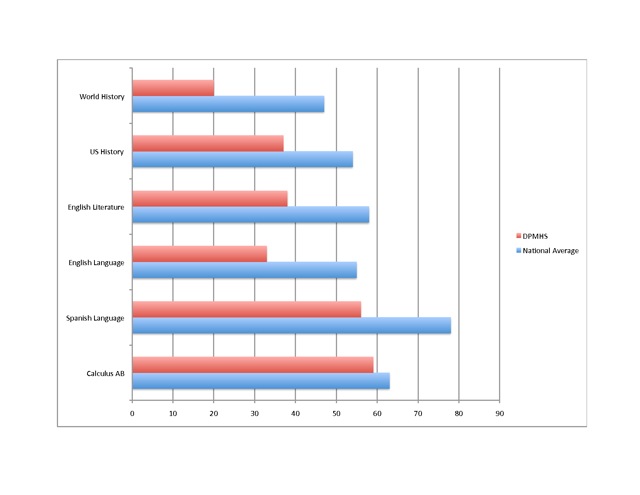 In most AP classes offered here, there's a gap between nationwide and DPMHS' passing scores. For the 2013 school year, World History nationwide had a passing rate of 47 percent while DPMHS had only 20 percent.
That's because if a college knows that an individual has challenged themselves academically and succeeded in that, it reassures the college office that the student is ready for that specific college's curriculum.
"College board wants more students to take AP due to a few reasons," said Los Angeles United School District (LAUSD) College Board representative Donald Mitchell. "It gives the student an opportunity to see what a real college class feels like. It prepares them to be successful and a student who gets a 3, 4 or 5 on the AP exam could get them college credits which could save them money and even get them on the early graduation list."
Due to only having three science teachers on staff at DPMHS (one works half time) there is no space to fit an AP Science class. However, according to Smith, if the school increases by 30 students, science teacher Mabel Wong may be able to take over either Biology or Chemistry so one of the two remaining science teachers can teach an AP class.
"I'm glad we have the basic AP classes, but there's schools with AP sciences and we don't have those." said junior Vanessa Fano. "It makes me feel like I'm not getting the full experience in high school and even got me thinking about taking classes at a community college over winter and summer break."
Adding more AP classes to a high schools program isn't always easy however due to scheduling, training and the number of students who are interested. However colleges don't look down upon a student because their school doesn't offer a variety of AP classes however.
"As long as the student has taken advantaged of all the AP classes offered then that shows that you're a go getter, you are taking the challenging courses, if there was more challenging courses they assume you would have taken them," Mitchell said.
In LAUSD, five years ago there were 30,000 exams taken to a jump of 44,000 exams taken in May 2013. DPMHS's growing class sizes and few AP classes might collapse, leaving its students with no credits to boost their GPA and no academic challenges.
DPMHS offers the basic AP courses which are AP World History, US History, English Language and Composition, English Literature and Calculus AB/BC. The school has also offered one year of AP Spanish Language six years ago.
DPMHS doesn't offer any AP sciences due to scheduling, low scores on past AP Biology exams and fitting all the lessons into two semesters, according to science teacher Stephen Schaffter.
"We don't have AP Spanish anymore because I'm the only Spanish teacher here. Instead of having me teach a nine student AP class, it'd be better to teach Spanish 3 which has 39 students this year," Spanish teacher Glenda Hurtado said.
Although DPMHS doesn't offer an AP Spanish class, it does offer the AP Spanish Language exam.
Hurtado hopes to bring back AP Spanish Language so that students can learn a higher level of vocabulary and thinking.
Depending on the AP class a teacher is planning to teach, they are also required to go to a training workshop to get information on what will be on the AP exam for that subject.
"I benefit as a teacher because I get 'inside' information from College Board; what kinds of questions (are on the test), about common mistakes, time and the format of the test,"  said Hicks, who also teaches AP Calculus. "My students benefit because I have this information to pass onto them so that when they take the AP test, there will still be some surprises but there will be fewer."
– Staff writer Sheena Gonzalez contributed to this article.