Music teacher, students prepare for spotlight in Daniel Pearl World Music Day
Preparations underway for school's 5th annual event
By REBEKAH SPECTOR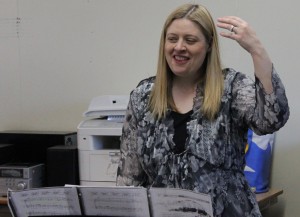 Students participating in the fifth annual Daniel Pearl World Music Day are counting down the days until they get to perform in front of all their peers.
The event will take place on Oct 23 and feature the song, "Hine Ma Tov," a traditional Jewish hymn, "The Lion's Den," by David Broza, and a Fun. medley of the songs "Some Nights," "We Are Young," and "Carry On."
The month of October honors journalist Daniel Pearl's birthday and his love of music with international concerts that encourage tolerance for all.
Since 2002, over 11,000 performances in 129 different countries spread the message that people with different religious or ethnic backgrounds can get along and rid the world of hate.
"Music is a universal language. I feel that it could connect all cultures," said pianist Mher Mkrtchian, who will be opening this year's performance at DPMHS.
This year there will be about 75 students participating, including seven soloists, 12 instrumentalists and behind the scenes workers. Only 17 of the singers are in the choir class and the 30 other students have their practice time on Tuesdays at lunch, and will be practicing more during special workshop times.
To soloist junior Sandra Aguilar, Daniel Pearl World Music Day is where students get the opportunity to pay tribute to Pearl, who reported for The Wall Street Journal.
Music teacher Jackie Gorski is hopeful that the mandolin, an instrument in the lute family, will be featured this year in the performance, which hasn't been done in the school's World Music Day before.  Additionally, Gorski has invited a class of third graders from a local school to be guests at the event.
Brandon Gilden contributed to this article.