CW's 'The Flash' races to become fall's new hit show
Last Tuesday night, The CW premiered one of the most anticipated new fall shows of the season, "The Flash."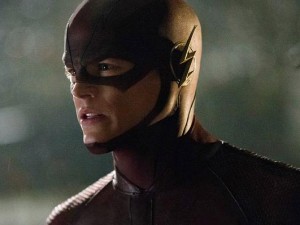 A spinoff of the network's current hit show "Arrow," "The Flash" offers a light and fun-loving theme into the fictional world of the fastest man alive that audiences of all ages can enjoy. When Barry Allen (Grant Gustin) is introduced he is an 11-year-old boy witnessing something truly tragic- what appears to be a supernatural being murders his mother and his father is framed for the murder that he didn't commit.
Feeling sorry for the boy, Det. Joe West (Jesse L. Martin) adopts Barry and grows up with his best friend Iris West (Candice Patton) who is Det. West's daughter. Considering the events of his childhood, Barry surprisingly grows up a happy-go lucky young man who works at the Central City Police Department as a CSI sleuth under the command of Det. West where he works to uncover what unnatural phenomenon was responsible for his mother's death.
One evening after failing to stop a mugger during a press conference for the grand unveiling of S.T.A.R Labs promising a new particle accelerator created by physicist Harrison Wells (Tom Cavanaugh), head of S.T.A.R Labs, something goes very wrong. Barry is struck by lightning. But not just any lightning, there's an explosion created by the accelerator followed by a storm causing Barry to get struck by a jolt he never sees coming.
That jolt, after first putting Barry in a coma for nine months, gives him the power of incredible speed but for many unknown victims who were struck by this jolt either die or turn into "metahumans."  When he awakes in S.T.A.R. Labs, he meets a now wheelchair-bound Wells and the last of his remaining team Caitlin Snow played by former Disney star, Danielle Panabaker and Cisco Ramon (Carlos Valdes) who, after discovering Barry's power, dedicate their time on working with Barry through his physical changes which eventually leads up to Cisco whipping out an amazing Flash suit.
Two cameos in the pilot are also featured as important figures in Barry's life. The first being Oliver Queen (Stephen Amell) aka The Arrow who convinces Barry that he can act as a guardian angel for his city, while also spawning "The Flash" as name for Barry's new superhero persona. The second cameo, which may well be the coolest one, is from John Wesley Shipp, who played the TV Flash in the 1990 CBS series and now plays Barry's father on the show.
The appeal and charm of the show is greatly influenced by Barry's likability. Gustin doesn't portray the typical isolated, dark soul and tormented by guilt superhero that is seen nowadays in TV and film. Gustin's portrayal of the character brings optimism- you want this character to win because you sympathize with him, he's relatable. The show has even garnered a 95% fresh from Rotten Tomatoes, the statistics don't lie. The pilot ends up being all-in-all fun, simple and wholly entertaining.