Video: Musicians from the Kadima Conservatory of Music perform holiday songs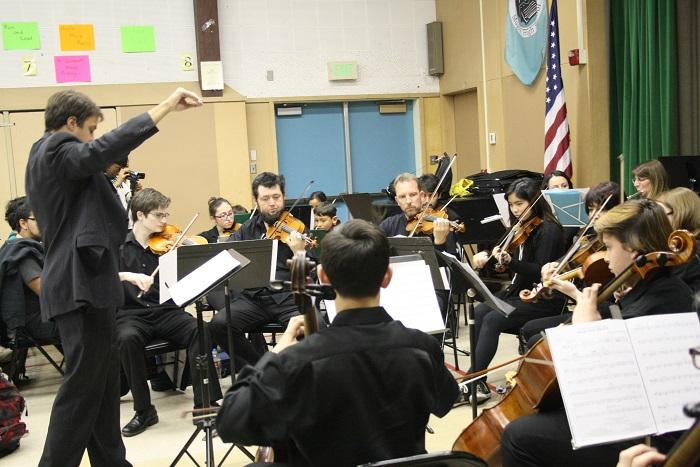 By MICHELLA MOUSAED
    The strings of the Kadima String Quartet echoed through the walls of the multi-purpose room and touched the hearts of the audience.
     "I thought it was a lot of fun. I have been looking forward for it for weeks and it is a great way to end the semester, " said Jackie Gorski, the music director at Daniel Pearl Magnet High School (DPMHS).
            The quartet played classical music as well as famous pieces from operas and movies like "Brave." The quartet was accompanied by students from ages 9 through 75 who are a part of the Kadima Conservatory of Music. They played numerous instruments from the brass, wind and string sections. The Kadima Quartet performed on Dec. 11. This was their second performance at DPMHS. Gorski and senior Yvonne Gonzales planned their visit while the quartet was on a school-wide tour across the Los Angeles area.
           "I enjoyed the performance because everything was in the holiday spirit," sophomore Maxim Grinfeld said.
             The quartet is comprised of Eric KM Clark and Andrew Tholl both on the violin, Beth Elliott on the viola and Lynn Angebranndt on the cello. After playing classical music, the four of them decided to play Christmas music. The piece they played was named, "Someone is Jingling My Bells."
            "When we saw your name on the list of high schools, we knew we had to go there. We are involved with the Daniel Pearl Foundation. We perform every year at the Daniel Pearl World Music Days and we hope to see you more often," Elliott said.