Artwork displays different emotions through various styles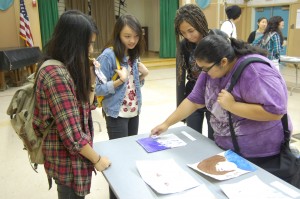 By MADELEINE JEFFERDS:
The multi-purpose room was cleared of basketballs and jump ropes where there laid an array of watercolors to pencil drawings, and even a few poems.
Daniel Pearl Magnet High School held their 2nd annual art show, a time to express feelings through different forms and although there seemed to be less entries than last year, it was still a successful turnout.
"When I had the idea of the art show, I was hesitant and nervous to go along with it because I was not sure how many would want to participate. I'm glad everything worked out in the end," said junior Vanessa Fano, who was in charge of the art show.
There were portraits of young women by sophomore Johanna Cortes. Hyper realistic, a term usually used to describe realistic drawings with over exaggerated shading, pencil drawings by senior Ariana Hardwick-Jones, paintings of landscapes and spectrums by junior Jasmin Valle, and many more.
Junior Boa Pistol-Boesh had an entire series of intricate abstract planets.
"I like space and watercolors, and have since elementary school," Pistol-Boesh said.