Blackberry messenger is a little too late
The former renowned Blackberry Messenger (BBM) was released for other products to use but was a huge miss.
On Nov.15, the app was updated to fix bugs and improve performance, making BBM available for both Apple and Android products.
"Blackberry Messenger is pointless.  There are other apps that have already made those features," freshman Nelly Nazarian said.
The BBM app for Android and Apple devices features text and media messaging and also free calls while added features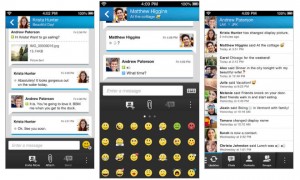 include video calls and being able to connect to social media networks. The Blackberry company released the app for other devices to use because of their continuous decline and as a last save to keep the company alive since their company buyout failed and its Chief Executive Thorsten Heins quit his job.
"BlackBerry tried to remake itself and so far has failed," industry analyst Jeff Kagan said in a note to investors published in the Los Angeles Times on Nov. 4.
Blackberry's stocks have been dropping since its customers are switching to companies that have better smartphone features and the business savvy features of BB are simply outdated.
"I own a Blackberry but even I don't use BBM, no one I know uses it so it's pointless," junior Ludyn Vasquez said.
Even if people have downloaded the app and shared their BBM pin to Facebook and other social media networks, most people they know do not use the app and if they did, people end up messaging each other via text messaging.
"I don't even know what BBM is. It's pointless," sophomore Emily Ward said.