Leaving our journalism hearts in San Francisco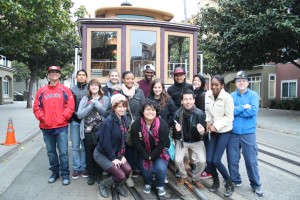 After several months of fund raising, 15 journalism students and two teachers left on a bus to a national high school journalism conference in San Francisco. They returned home boasting several awards.
The three-day event, which began April 25, was hosted by the National Scholastic Press Association/Journalism Education Association and drew more than 4,000 students and advisers from across the country.
Students had the opportunity to learn more about the various aspects of journalism by attending workshops such as "What to do once you're online" and "All the news: telling the LGBT story."
They heard from a variety of keynote speakers who are experienced in the field of high school journalism. One of these speakers included journalist/investigative reporting professor Lowell Bergman. Several of the students had the chance to participate in write-offs, too.
However, it wasn't all work. The students did some sightseeing, including a visit to the Ghirardelli Ice Cream and Chocolate Shop. On their final night in San Francisco, the journalists attended the convention's award ceremony where they announced the national winners of different write-offs, Pacemakers and Best of Show awards.
Although The Pearl Post's website did not take home the NSPA Online Pacemaker award, they did receive a plaque commemorating their place as finalists. The Pearl Post placed 10th in Best of Show for the print issue and 10th in Best of Show for the online site.
The real gem of the ceremony revealed itself as the broadcast news package awards were announced to the audience waiting in anticipation. After the speaker had read through all of the honorable mentions, Elitza Batchiyska and Patrick Avognon were sure they had no chance. However, Avognon and Batchiyska placed second in the country with a rank of excellence.
"Winning that award just proved to me that a small journalism program such as ours merely needs creativity and determination to be noticed on such a large scale," Avognon said.
All in all, the convention was a success and students are looking forward to the convention next spring.
"I'm so happy that I will be able to participate next year," said sophomore Elsy Barcelo.