"The Voice" brings fame and fortune to DPMHS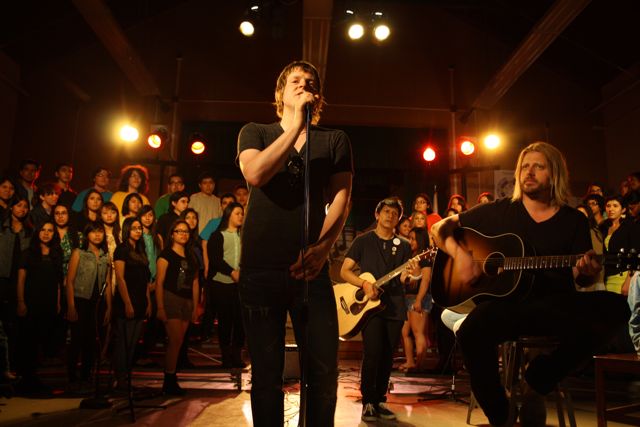 By JAKE DOBBS:
After hours of set up, the production crew was finished. Time for Daniel Pearl Magnet High School's choir to shine during the filming of their first music video.
An NBC film crew came on April 20 to make a commercial that is to air during this season of "The Voice," a televised singing competition on NBC.
The video features the DPMHS choir, along with last season's finalist Terry McDermott singing his new single "Pictures."
"I thought they were great," McDermott said. "They added an extra dimension to the track that I've never heard before."
Guitarist Todd Burman also joined the choir and McDermott for the shoot. Burman and McDermott toured together six years ago and developed a friendship.
A common friend reunited them a year ago when Burman was in need. He had a strong instrumental base of a song, but no lyrics. McDermott wrote the lyrics and gave the song its voice.
Along with Burman, sophomore Ana Perez and senior Kevin Rodriguez played guitar and junior Jasper Harris played the piano.
"We had good chemistry. We were able to stick together rhythmically, which made it a lot of fun playing with those guys," Harris said.
This commercial is the product of a campaign by "The Voice," Kia Motors and Donors Choose to give aid to four high schools in the Los Angeles area.
As part of this program, music teacher Jackie Gorski's Donors Choose project for electric guitars was funded and her current project for keyboards was partially funded, but is still accepting donations so that a keyboard class can take place in the next school year.
"I did not expect that amount of professionalism from a group of students at a high school," creative director Mark Bennett said.
The first commercial featuring DPMHS aired May 22 and the episodes will air on May 28, June 4 and June 11.
You can watch the preview and a news video online at www.thepearlpost.com.