DPMHS has reasons to celebrate, according to WASC committee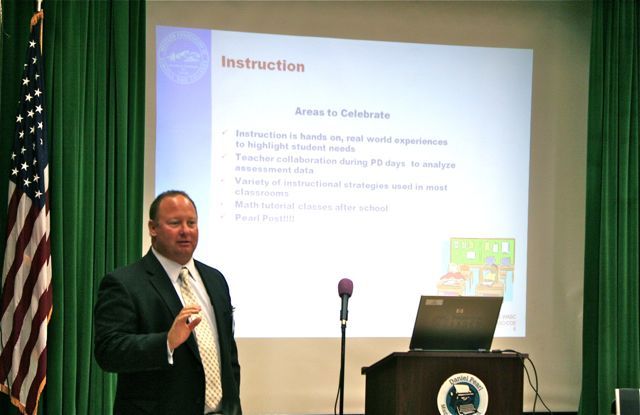 By Ana Hernandez and Elitza Batchiyska:
Campus beautification. Classroom preparation. Professional dress. These were the efforts of the students and staff of Daniel Pearl Magnet High School (DPMHS) in preparation for the recent accreditation visit by the Western Association of Schools and Colleges (WASC).
DPMHS prepared the weekend prior to the visit by holding a campus beautification event known as Sparkle Saturday.
"This campus is like my second home so I wanted to help (on Sparkle Saturday) and I think WASC was really impressed," said senior Jennifer Berrios, who is also Student Body President.
Sparkle Saturday took place on Feb. 23. Parents and students arrived at DPMHS to sweep, rake, polish and plant.
Cleaning was not the only task that took place on Sparkle Saturday. Members of the Interact Club also built water purifiers as part of the club's Water Pasteurization Indicators (WAPIs) project.
During the WASC committee's visit from Feb. 25 to Feb. 27, they observed classes, talked to students and roamed across campus to get a feel of the school's environment and curriculum.
After their last visit to DPMHS, the school was granted a three-year accreditation. However, WASC can grant a maximum of six years if they are extremely impressed by a school's efforts.
The committee's decision will be released in April.
On Feb. 27 during an extended lunch, several DPMHS students, faculty, and staff gathered at the Multi-Purpose Room (MPR) for an assembly held by the WASC committee. The assembly went over notes they made during the visit and feedback they had for the school.
The WASC committee also pointed out some improvements for DPMHS during the assembly.
"Basically, everything that they called out for improvement are items that we are already improving on," said Office Administrator Diane Seiger.
According to Principal Deborah Smith, the issues that DPMHS is working on are school safety, bullying and respect.
"I think we still need to work on treating each other with respect, that students still need to work on being kind to one another and respecting each other, not only with their work but with words," Smith said.