Senior Luis Solano wins Posse college scholarship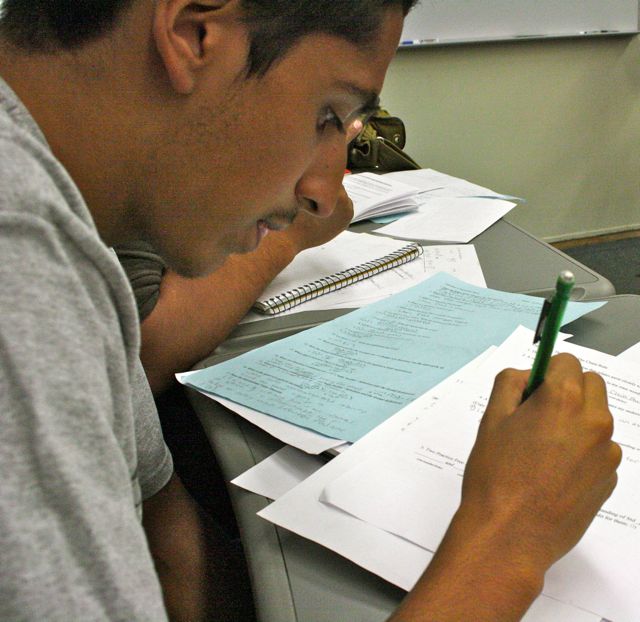 By Carlos Godoy.
The night that marked the beginning of winter break for most students marked the beginning of senior Luis Solano's collegiate destiny. On Dec. 14, he found out all his hard work paid off when he was notified that he would be attending a prestigious university with a full scholarship.
In December, Solano was awarded a Posse Foundation leadership scholarship for a full-paid tuition at Syracuse University in upstate New York. He will receive approximately $140,000 that will be divided to around $36,000 per year.
Solano has a 4.0 GPA, is captain of the Birmingham Community Charter High School (BCCHS) cross country team and is new media editor of The Pearl Post. These  were all qualities that contributed to his chances of winning the scholarship.
"For a moment, all the happiness rushed into me. My legs were shaking of how excited I was and tears of joy came from both myself and my parents. My brother was overjoyed at the news, but always seemed confident I would get it," Solano said.
The Posse Foundation was founded in 1989. The organization began when a student said, "I never would have dropped out of college if I had my posse with me." Since then, Posse's goal has been to create a comfortable and inviting college environment for students by sending them off in groups.
The groups, called Posses, are multicultural teams made up of 10 students. Colleges and universities partner with Posse to award students with four-year, full-tuition scholarships that are awarded based on leadership skills.
"They're usually looking for high achieving students with a GPA of 3.3 or higher and someone who shows strong leadership skills as well as someone who has a lot of extra-curricular activities," Daniel Pearl Magnet High School counselor Martina Torres said.
Up to 15 students per high school can be nominated to take part in Posse and they have to be seniors.
College Counselor Linda Zimring leads the students through the process of filling out the application, reviewing their personal statement and helping them stick to their deadlines.
"I chose Luis because he showed a rigorous curriculum, high grades and strong test scores," Zimring said.
Solano's schedule is tight, yet he managed to put in time and effort for Posse.
"We have to go to workshops once a week, on Mondays usually. It's pre-collegiate training to prepare us for college," Solano said. " We usually meet at the facility with our Posse and go to a room with our trainer."
In addition to workshops, Solano must also attend meetings.
The first ones focused on the background of how Posse was founded and how it started to develop.
Then there are many students who are tested by trainers through many interactive activities like becoming a better Posse to make a positive impact on the colleges they'll be attending.
Solano hopes to major in mechanical engineering and will be attending the College of Arts and Sciences at Syracuse to fulfill the requirements for this major.
Solano also plans on joining Syracuse's track and field team to add on to his four years of track and field at BCCHS.
Posse offers a career program for each school in order to help students find internships and jobs throughout or after their schooling.
"I had a lot of support from my family and my older brother. My parents were never too tired to take me to the meetings," Solano said.
A ceremony took place on Jan. 4, in the Zipper Hall of the Colburn School of Performing Arts in Los Angeles honoring the students who won the scholarship.
Solano is not the only DPMHS student who has been represented in Posse. Alumna Laura Huerta also received the scholarship in 2010 for Grinnell College in Iowa.
"It's a bittersweet feeling that I got a scholarship because I'm going so far way, but in the end, I know it's worth it," Solano said.